Orders & Delivery
How are your products made?
We work with a leading print fulfilment company. They have locations worldwide, so depending on where you are your orders are printed on-demand, and shipped from the facility that can do it most efficiently.
We use higher-quality spec tees and hoodies than *those other guys* because we want to sell a cool product that will last, and feels good.
What payment do you take?
We use PayPal and Stripe as our payment providers, so your details are safe and secure (we never see your card details.) You can checkout using your PayPal account, or with your favorite credit card. We take all the good ones.
Do you do free shipping?
We don't offer it at the moment. Shipping prices are bascially at cost, and what we are charged by the fulfilment guys. "Sorry it's so much."
You get a better deal if you order multiple products. If you order two t-shirts, the second tee will be charged at a much lower rate.
When will I get my order?
It usually takes 3–7 days to print an order, after which it's shipped out. Shipping time depends on your location, but approx time are:
● USA: 3–4 business days
● Canada: 4-6 business days
● Europe: 6–8 business days
● Australia: 2–14 business days
● Japan: 4–8 business days
● International: 10–20 business days
Pls be patient, play yourself some music and relax. Your order is on its way.
Where will my order ship from?
Our print store partner has facilities worldwide, including the US, Canada, UK and Europe.
How do I track my order?
You'll receive a tracking link via email when your order ships out. If you have any questions about your tracking or shipment, drop us a line at
[email protected]
.
Will I be charged taxes/duties for my order?
Sales tax may be added depending on your location (we
do not receive the fee, it's automatically remitted by our storefront provider Big Cartel.)
Any sales tax will be displayed when you check out.
Customs policies vary widely for every country, so please check with your local customs office to see if they apply duties/taxes to your purchase on delivery. Unfortunately extra fees are out of our control. Blame The Man.
My order should be here by now, but I still don't have it. What should I do?
Before getting in touch with us, please help us out by doing the following:
● Check your shipping confirmation email for any mistakes in the delivery address
● Ask your local post office if they have your package
● Stop by your neighbor (hi neighbor!) in case the courier left the package with them
If the shipping address was correct, and the package wasn't left at the post office or at your neighbor's, get in touch with us at
[email protected]
with your order number. If you did find a mistake in your delivery address, we can send you a replacement order, but shipping will be at your own cost.
PLS PLS check your order address before hitting the order button to avoid extra costs!
Returns

I received an incorrect/damaged product, what should I do?
We're sorry if the product you ordered arrived damaged, we know how much that sucks. Please email us at
[email protected]
within seven days of receiving the order so we can start the returns process.
Pls send photos of the damaged product, your order number, and any other details you may have.
Where do I send my return?
A returns paper slip will be included in your package. Drop us a line and we'll be happy to help.
Do you offer refunds?
Refunds are offered for incorrect/damaged items, or items lost in transit.
This t-shirt color clashes with my eyes. Can I exchange it for a different one?
At this time, we don't offer exchanges. We try to show colors as best we can, but bear in mind your monitor/device variations in brightness, etc.
For clothing sizes, check out our
Size Guide
before placing an order. If you have any questions about our products, please drop us a line before you order.
Other Qs
Is this an official merch site for RSM? Does he receive any royalties?

Yes, this is his official site - products and designs are approved by the Great Man Himself. These ain't no bootlegs!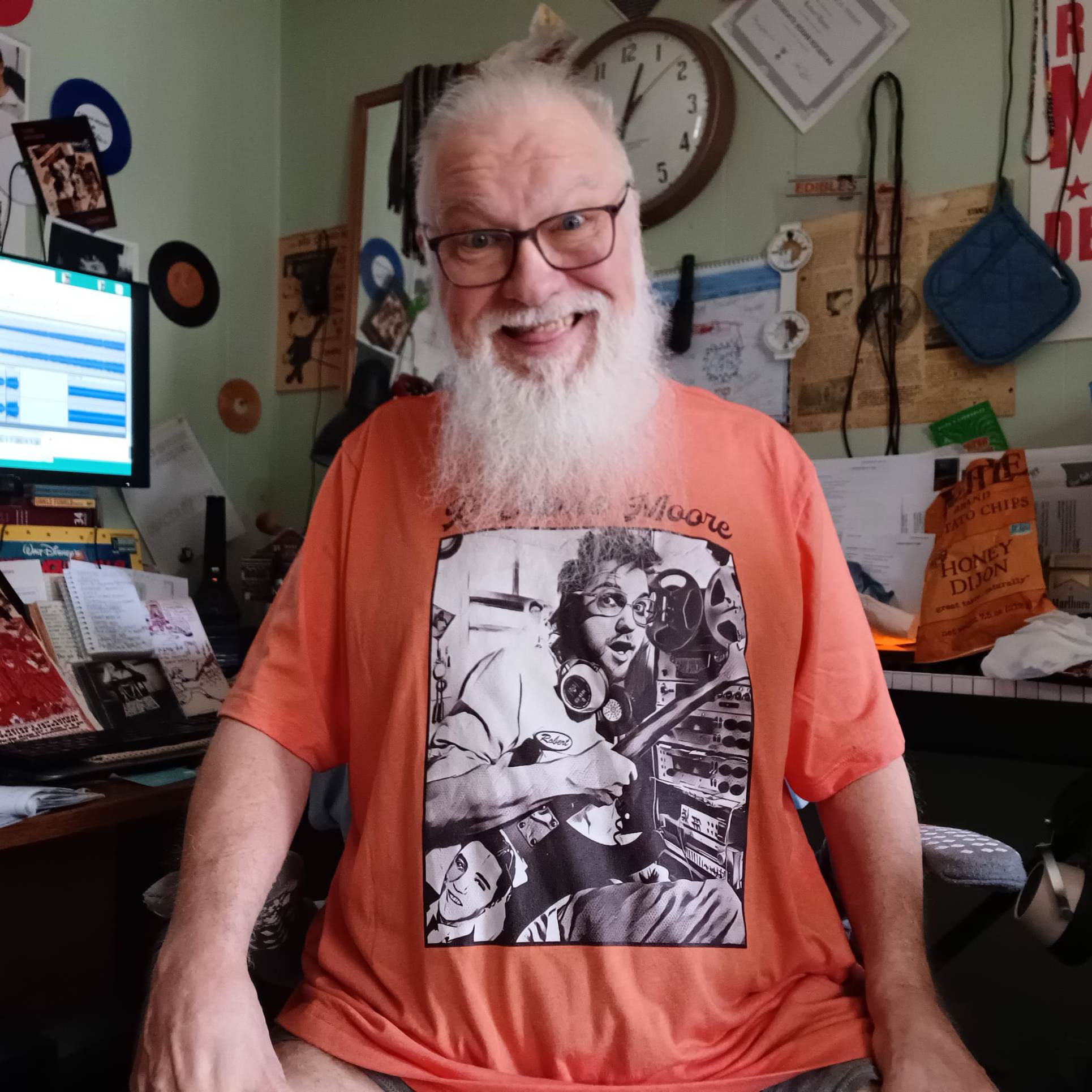 All profits go to supporting him in his well-deserved retirement. We really appreciate your support.
Do you offer discounts or coupons?

Yes. No. Maybe. Sign up to the newsletter at the bottom of the page for offers and flash sales, or follow the official
RSM Facebook page
for coupons and hot deals (possibly).


Where can I buy R. Stevie Moore cassettes, CDs and vinyl?

We stock a very limited supply of
signed R. Stevie Moore cassettes and CDs
. You can buy digital downloads from RSM himself at
rsteviemoore.bandcamp.com
, and CDs, cassettes and vinyl from sellers including:
● Cordelia Records
● Think Like A Key Music
● Norman Records
● Degelite.org
Plus check your friendly local record store, Amazon, Discogs, etc.
Will there be new products added to the store?

For sure! We hope to add new designs and products regularly, so check back often.
If you have an idea for a product you'd like to see at the store, or are an artist who'd like to donate an RSM-inspired design, drop us a line at
[email protected]
I've just discovered the music of R. Stevie Moore and wanna know MOOOORE! Where do I start?

Watch the 2019 feature-length documentary
Cool Daddio: The Second Youth Of R. Stevie Moore
- a MUST SEE!
Also check out his official website at
rsteviemoore.com
, and fall down an infinite, glorious RSM rabbithole at
Bandcamp
.